Information For Menu
The Information For menu is an audience-specific menu. You can use this menu to direct different audiences to pages relevant to them. For example, an Information For menu may have tabs such as "Parents", "Alumni", "Students" and "Prospective Students", to direct users to the most relevant information to those audiences. The Information For menu should list audiences in order of the most important audience you are trying to reach (i.e., prospective, current, alumni, faculty/staff). This menu appears in the header of the webpage.


To create an Information For menu, go to "Appearance" > "Menus". This will open the Menu editor.
There select the "create a new menu" option and title the menu "Information For". Select "Create Menu".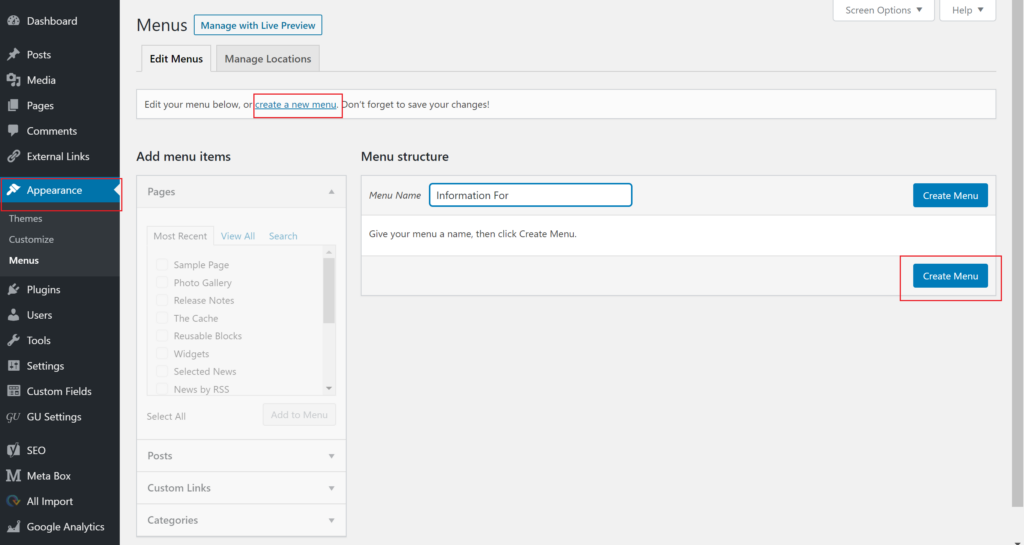 Add the appropriate pages and sub pages to the menu. View the Main Navigation section for instructions on adding and organizing menu items.
Then, find the "Menu Settings" section below the "Menu Structure". Here, check the box next to the 'Information for' menu option and save the menu.
If the Information For menu does not appear, email webservices@georgetown.edu to enable the Information For menu.